"I'm a grace junkie, brother!  I'll take all He will give me!"
Those are words spoken to me 30 or so years ago by a former colleague.  I don't recall the specific context of our conversation; I just remember it being said in humor as we were standing at the corner of several work cubicles.  This recollection is one of the thoughts that crossed my mind as the theme of God's grace took center stage.
Like others, I have meditated on what we commonly call "The Lord's Prayer" (Matt. 6:9-13; Luke 11:2-4).  I understand it to be a model prayer, one that teaches the kinds of things to emphasize in our petitions.  What is most prominent to me is that, in all of its simplicity, the prayer reveals that Jesus knew exactly what his disciples (including me) needed for successful life.  "The Lord's Prayer" is a petition for God's grace.
Consider the four action verbs used in the petition: give, forgive, lead, and deliver. These are the things we ask God to do for us, things of the Spirit we cannot do for ourselves, things little children need from their parents.  I think it's significant that Jesus said, "Truly I tell you, unless you change and become like little children, you will never enter the kingdom of heaven" (Matt. 18:3).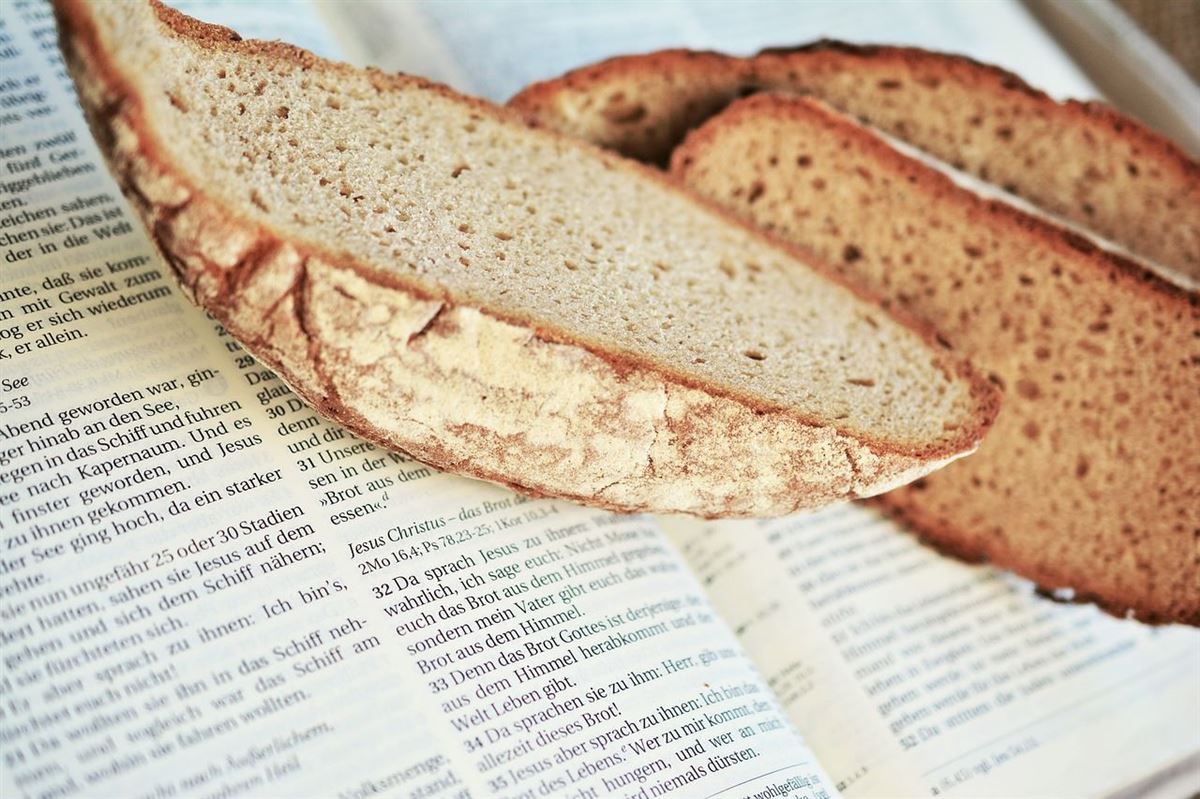 Some might argue that we can produce our own "daily bread," as long as it's just a metaphor for physical sustenance.  I would counter that only God is able to construct a seed so that it is able to grow into a stalk of wheat or barley or a grain of rice or a leafy vegetable.  Only He places the right mix of chemicals in the soil to nurture the seeds (even when He uses human agents), or sends the sun and rain in due season to activate those nutrient chemicals.  Only He places in motion the miracles of birth that continually provide the animals upon which we feed.  That's all grace, because it's by His hand, and none other!  But the "daily bread" is equally, if not more, about the spiritual sustenance of His Word and His Spirit, without which we would fall further and further into the abyss of false and foolish notions of human wisdom and independence.  Paul call this "hollow and deceptive philosophy, which depends on human tradition and the elemental spiritual forces" (Colossians 2:8) upon which the world establishes its foundations.  To those who rely on God, he gives the daily bread of knowledge and understanding.  That's grace that I want and need.
Someone I know is fond of saying he is a "debtor."  He often ends emails and text messages with that phrase as a way of pointing toward God.  It's in recognition of all that God has done for him, all that he has been given by God, and all he has been forgiven by God.  A number of prominent Christian writers over the centuries have said something to this effect, "The more time I spend in the presence of the Most High, the more aware I become of how deep is my unworthiness to be in His presence, of the depth of my debt."  I get it, because I've experienced that very thing.  That's very likely the reason the Prophet Isaiah shouted, "Woe is me! I am ruined! For I am a man of unclean lips, and I live among a people of unclean lips, and my eyes have seen the King, the LORD Almighty" (Isaiah 6:5), after finding himself standing before the throne of God in a vision.  It is the awareness of the holiness of God that shines a light on our true state, and which prompts us to seek the forgiveness without which we cannot live.  And He gives it, freely (1 John 1:9).  I am a debtor, too; I need His grace of forgiveness!
I need to be careful in my interpretation of Scripture, so let me say that I believe the intent of the phrase, "Lead us not into temptation, but deliver us from evil" is to show us that God's grace seeks to influence us to strongly resist destructive spiritual temptations, regardless of their source.  It is grace that drives us into His arms for protection from spiritual folly and darkness.  This full-faith reliance is our deliverance.  We do this by relying on His Spirit, whom He freely gives to those who ask (Luke 11:13).  To be led by the Spirit of God is to be delivered from those impulses and yearnings (internal and external) that would cause us to be deceived, blinded, and eventually enslaved to other than God (Romans 8:1-14).  Here is more grace!
It would be easy to conclude from my comments that I think we're all helplessly dependent on God's goodness to us.  You'd be right to think this.  Many find this idea offensive because they think it somehow invalidates them.  To the contrary, I think God desires nothing more than to validate us by saving us from our ego-driven, self-centered selves that seeks its own light rather trusting in His.  Certainly, many of the Enlightenment philosophers rejected the notion of the need to rely on the God of the Bible, René Descartes (of "I think, therefore I am" fame) for one.  They couldn't conceive of much beyond a fully capable, independent humanity reliant only upon each person's ability to reason as the sole means of any so-called "redemption" needed.  But the history of the world reveals many brilliant "reasoners," who remained prideful and unrepentant men (and women), some of whom used their brilliance in nefarious and despicable ways.  I prefer King David's take (which I may have referenced in a previous post):
My heart is not proud, Lord,
my eyes are not haughty;
I do not concern myself with great matters
or things too wonderful for me.
 But I have calmed and quieted myself,
I am like a weaned child with its mother;
like a weaned child I am content. (Psalm 131:1-2)
 Like my friend, I am an unabashed grace junkie, and will take as much as God will give me.  He is my Father in heaven.
* The lyrics of Precious Lord, Take My Hand were written by Thomas A. Dorsey in 1932.
© Byron L. Hannon, 2019.  All rights reserved to original text content.